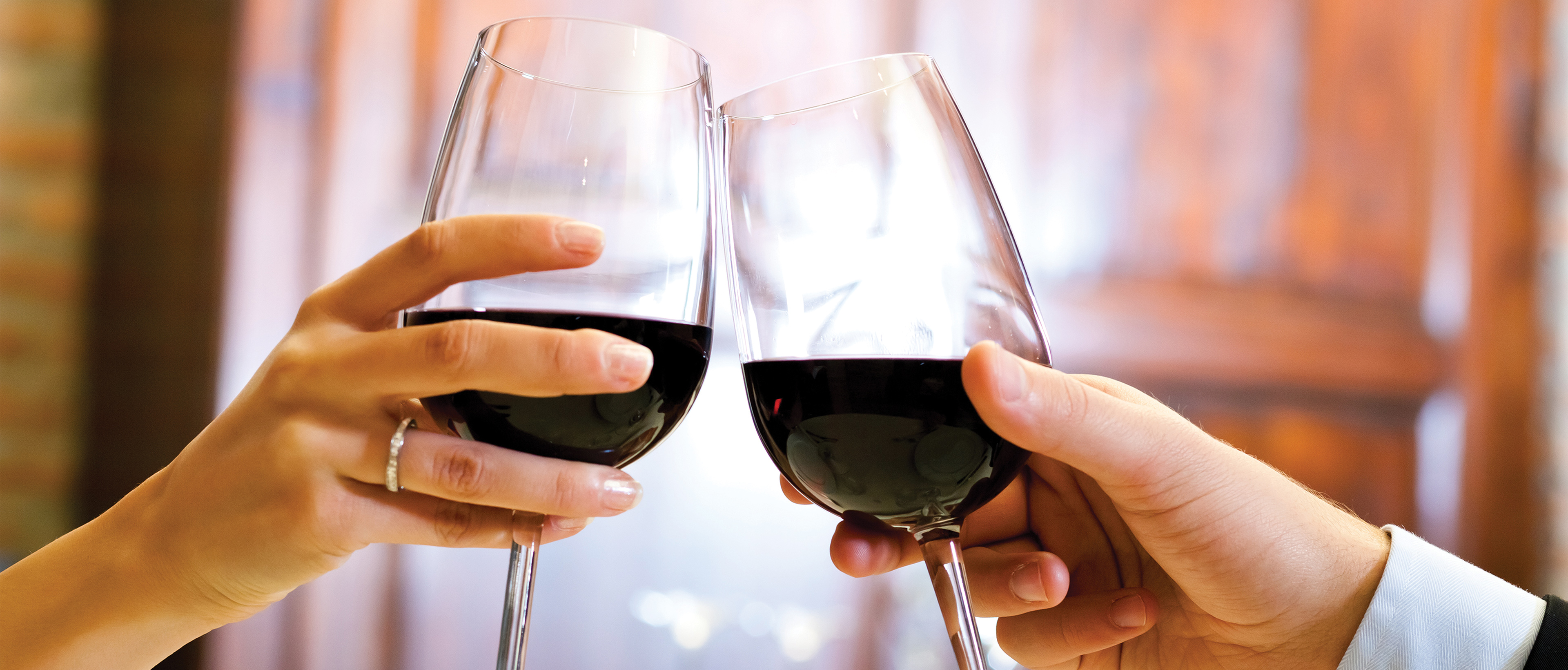 The month of love has arrived and we can't think of any better way to spend it than at a romantic restaurant with amazing wine. In honor of Valentine's Day, OpenTable has released its list of 2016's 100 Most Romantic Restaurants in America. Unsurprisingly, California topped the list with the most winning restaurants. Given that it wouldn't be a complete list for us wine lovers without some knowledge of  BYOB policies, we've rounded up all the corkage fees and rules to California's most romantic restaurants.
5200 Grand Del Mar Way, San Diego, CA 92130
At Addison, acclaimed Relais & Châteaux Grand Chef William Bradley presents his artisanal approach to cooking, combining local ingredients with contemporary French influences.
Corkage policy – $75 corkage fee per 750 ml bottle. Limit: 3. Wine cannot be from their wine list.
---
451 Second Street, Solvang, CA 93463
Aly's Restaurant features exquisite wine country cuisine. It's elegant ambiance is the perfect setting for couples, small groups, an intimate private event, birthday or wedding dinners, business meetings, and wine tastings.
Corkage policy – $20 corkage fee
---
132 State Street, Los Altos, CA 94022
Ambience Restaurant offers New-American cuisine exclusively featuring Chef's tasting menu, ranging from 13-15 courses, with an optional wine pairing tailored for each course.
Corkage policy – $40 corkage fee. Limit: 2
---
1600 Fairplex Dr., Pomona, CA 91768
Havana meets Madrid at Coco Palm, the beautiful hilltop restaurant overlooking the San Gabriel Valley. Show your moves in the Coco Room where every Friday they offer free salsa lessons, followed by a live twelve-piece salsa band.
Corkage policy – $10 corkage fee
---
Pier 39, H Dock, San Francisco, CA 94133
Forbes Island provides a fantasy experience, beneath the sea or on the white sand patios with incredible views of SF Bay, Downtown, Alcatraz, Sea Lions, Coit Tower & the Golden Gate Bridge.
Corkage policy – $25 corkage fee
---
2932 E. Chapman Avenue, Orange, CA 92869
Since 1972 The Hobbit Restaurant has been one of Orange County's most treasured locations. The elegant, romantic atmosphere makes The Hobbit perfect for any special occasion.
Corkage policy – $25 corkage fee for your first bottle. $35 corkage fee if you bring a second bottle. Limit: 2. One magnum bottle allowed per party for a corkage fee of $65.
---
74155 El Paseo, Palm Desert, CA 92260
Upon arriving at Jillian's, guests enter through magnificent wrought-iron gates into an enchanting garden. This is the perfect place to relax listening to live music while enjoying a drink in front of the fireplace under a star-lit sky.
Corkage policy – $30 corkage fee
---
385 West Tahquitz Canyon Way, Palm Springs, CA 92262
Established in the heart of Palm Springs since 1973, Le Vallauris, located at the foot of San Jacinto Mountains, features Mediterranean French California cuisine, as well as first class catering.
Corkage policy – $35 corkage fee per 750 ml bottle
---
8164 West 3rd Street, Los Angeles, CA 90048
As you enter The Little Door, you'll discover a hidden paradise, colorful crowd, romantic courtyard, and elegant displays of rustic Mediterranean cuisine.
Corkage policy – $35 corkage fee per bottle. Wine cannot be from their wine list.
---
100 Terranea Way, Rancho Palos Verdes, CA 90275
Set overlooking the Pacific Ocean with stunning views, mar'sel at Terranea offers the ideal location for an elegant dinner or relaxed late night bite.
Corkage policy – $35 corkage fee
---
11048 Highway 1, Jenner, CA 9545
River's End is a romantic restaurant and cabin setting on the Sonoma Coast featuring locally sourced cuisine and an extensive wine list.
Corkage policy – $20 corkage fee per 750 ml bottle
---
419 Cold Canyon Rd., Calabasas, CA 91302
Saddle Peak Lodge, where rustic ambiance meets a sophisticated palate. The former hunting lodge maintains a warm and rustic décor, featuring two fireplaces, outdoor dining, and views from the second- and third-floor rooms.
Corkage policy – $20 corkage fee for your first 750 ml bottle. $25 for your second 750 ml bottle. $35 for each 750 ml bottle thereafter. For each bottle purchased from their wine list, Saddle Peak Lodge will grant one complimentary corkage during the same visit. Corkage on bottles of wine purchased from Duke of Bourbon and Woodland Hills Wines will also be waived. Maximum of 2 bottles waived.
---
1750 Wharf Rd., Capitola, CA 95010
For over 60 years, Shadowbrook has been famous its for fine food, wine and liqueurs served in an atmosphere of Old World charm and grace.
Corkage policy – $20 corkage fee your first bottle. $30 for each bottle thereafter. Half of all corkage fees are donated to the California Restaurant Association.
---
1126 Queens Highway, Long Beach, CA 90802
With stunning seaside views from nearly every seat, Sir Winston's Restaurant & Lounge is perfect for special occasions and everyday enjoyment.
Corkage policy – $25 corkage fee
---
900 San Ysidro Lane, Santa Barbara, CA 93108
Located in a 19th-century citrus packing house, The Stonehouse features a relaxing lounge with full bar service and a separate dining room with crackling fireplace and creek side views.
Corkage policy – $35 corkage fee