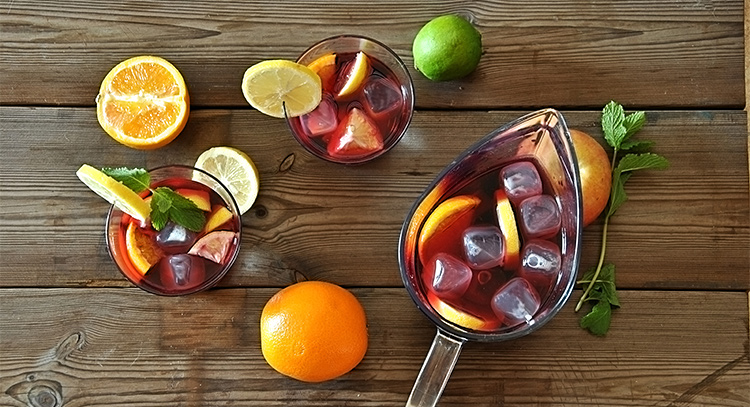 The cold weather has arrived, vibrant fall leaves are filling the scenery, the fireplace is crackling and the Thanksgiving holiday is right around the corner. This time of year brings family and friends together to enjoy delicious food, give thanks and create meaningful memories together. While much of the holiday is spent indulging in delectable turkey, side dishes and desserts, many focus on what type of wine to serve. Dessert wine is a perfect choice for the thanksgiving holiday season, and there is a variety to choose from.
Sandeman Fine Rich Madeira – This wine has an earthiness with notes of nuts and a touch of orange zest flavor at the finish. It is a great compliment to pumpkin pie, which is one of the most popular desserts served at Thanksgiving dinner. Vin Santo is also a great selection due to its creaminess and richness that combines well with pumpkin spice flavors.
Domaine Fontanel Rivesaltes Ambre' – This dessert has a bit of acidity, tanginess and notes of nut flavor. This delicious wine is great to sip alone or when combined with a flavorful thanksgiving dessert.
Royal Tokaji 5 Puttonyos – This sweet wine has notes of honey and coconut and is made from Harslevelu and Furmint grapes. It pairs well with Thanksgiving desserts that contain pumpkin spice flavors or vanilla flavors.
Inniskillin Gold Vidal – This delectable rich textured dessert wine has notes of tropical fruit and melon and provides a sweetness that pairs well with Thanksgiving desserts that have pairs or nuts in them.
Mas de Lavail Maury Blanc – This medium-sweet dessert wine is complimentary to apple pie and apple flavored desserts due to its notes of orange blossom.
Patricius Red Lion 3 Puttonyos – This dessert wine delivers the right amount of sweetness and is capable of pairing well with honeyed desserts, pecan pie and all other types of pie.
As you prepare your Thanksgiving dessert menu, try adding any of these delectable dessert wines. Your guests are sure to be impressed and will enjoy the incredible pairings with popular Thanksgiving desserts. If you have a variety of desserts such as pumpkin pie, pecan pie and apple pie, pairing these pies with Patricius Red Lion 3 Puttonyos will allow you and your guests to indulge in a variety of desserts that are highly complimented by the same dessert wine. Enjoy your Thanksgiving with family and friends as you indulge in amazing dessert wines.