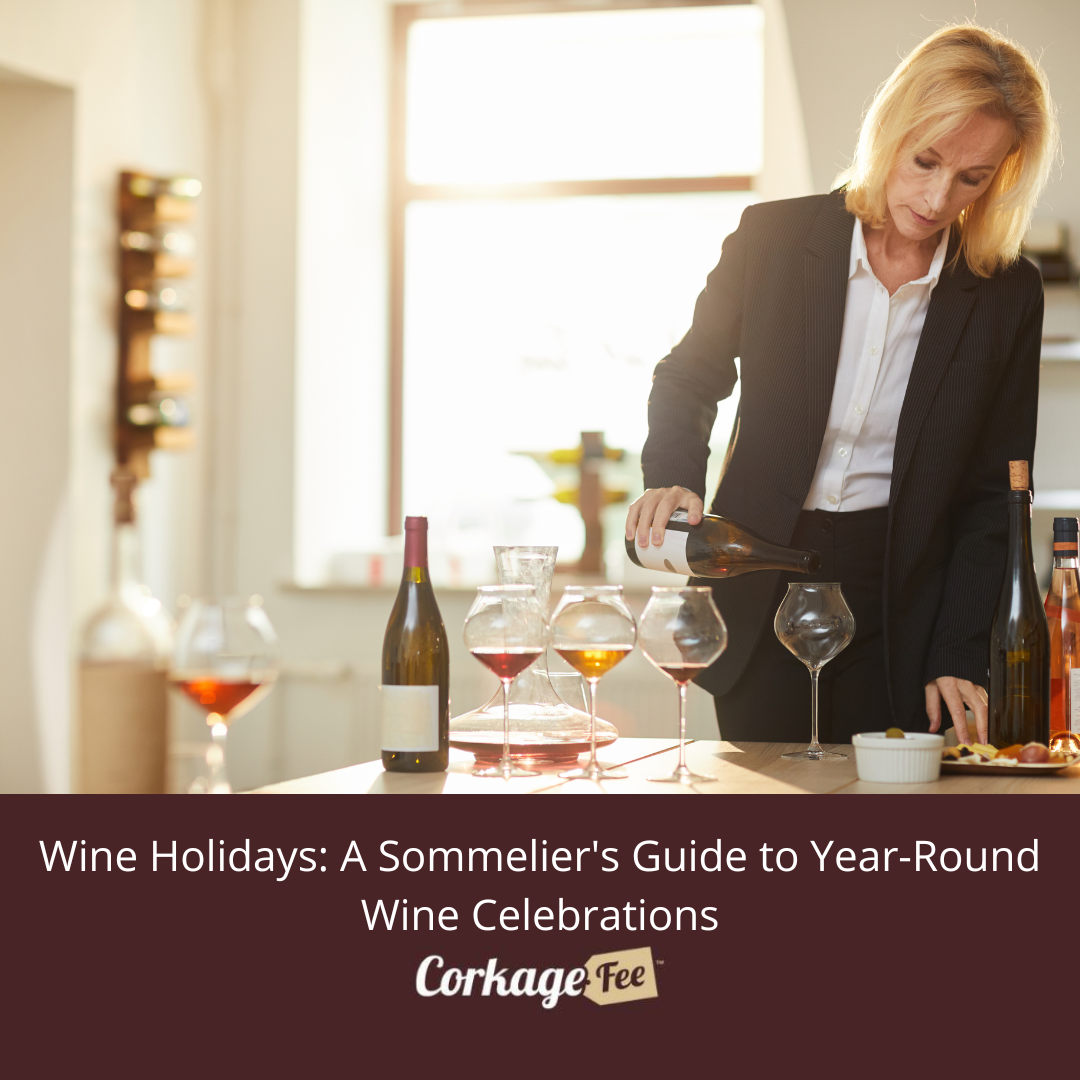 As a sommelier, I am constantly immersed in the world of wine, discovering new flavors, regions, and varietals. Throughout the year, there are numerous wine holidays that provide the perfect opportunity to celebrate and explore the diverse offerings of the wine world. From Open That Bottle Night to Champagne Day, each occasion has its own significance, allowing us to appreciate and savor the finest wines. In this article, we will delve into a sommelier's perspective on some notable wine holidays and the wines they celebrate.
February Wine Holidays
Wine Lover's Day – February 14th
On February 14th, wine enthusiasts worldwide raise their glasses to celebrate Wine Lover's Day, a holiday dedicated to the appreciation of this beloved libation. What better way to celebrate Valentine's Day than by toasting to the love of wine? Whether you are enjoying a romantic evening with a special someone or simply indulging in your favorite bottle, Wine Lover's Day encourages us to savor the flavors, aromas, and the rich history that each glass of wine represents. So, on this day, let your passion for wine guide you as you explore new varietals, share tasting notes with fellow enthusiasts, and embrace the joy that comes with being a wine lover. Cheers to love, romance, and the exquisite pleasure of enjoying a fine glass of wine on Wine Lover's Day!
Global Drink Wine Day – February 18th
On February 18th, wine enthusiasts worldwide raise their glasses to toast and celebrate Global Drink Wine Day. This holiday is a delightful opportunity to indulge in the pleasures of wine, whether it's a full-bodied red, a crisp white, or a sparkling delight. Global Drink Wine Day invites us to appreciate the artistry, craftsmanship, and rich history that goes into each bottle of wine. It's a day to explore new varietals, savor old favorites, and share the joy of wine with friends and loved ones. So, on February 18th, let's come together and raise our glasses in a collective celebration of the diverse and enchanting world of wine.
Open That Bottle Night – Last Saturday in February
On the last Saturday in February, wine enthusiasts around the world come together to celebrate Open That Bottle Night. This special occasion encourages us to uncork those cherished bottles that we've been saving for a special moment. As a sommelier, I urge you to embrace the sentiment behind this day and indulge in that extraordinary bottle you've been patiently waiting to savor.
March Wine Holidays
National Mulled Wine Day – March 3rd
March 3rd marks National Mulled Wine Day, a celebration of this delightful warm beverage. As the weather begins to transition, mulled wine offers a comforting and aromatic experience. Whether you enjoy a traditional recipe or add your own twist, take this opportunity to appreciate the spicy and aromatic flavors of this winter favorite.
International Riesling Day – March 13th
Riesling, with its versatility and wide range of styles, deserves a day of recognition. National Riesling Day on March 13th is the perfect occasion to explore the world of this noble grape. From bone-dry to lusciously sweet, Riesling showcases incredible acidity and a unique expression of terroir. Pair it with a variety of cuisines or simply enjoy it on its own.
April Wine Holidays
World Malbec Day – April 17th
April 17th is Malbec Day, a celebration of Argentina's most renowned varietal. Malbec offers rich flavors of dark fruit, bold tannins, and a distinct earthy character. This wine pairs exceptionally well with grilled meats and hearty dishes. Raise a glass and pay homage to this vibrant and robust red wine.
May Wine Holidays
International Sauvignon Blanc Day – First Friday in May
The first Friday in May is dedicated to Sauvignon Blanc, a refreshing and crisp white wine known for its vibrant acidity and aromatic profile. International Sauvignon Blanc Day invites us to explore the diverse expressions of this varietal, from the grassy and citrus-driven wines of New Zealand to the mineral-driven examples from the Loire Valley.
World Moscato Day – May 9th
May 9th is Moscato Day, a celebration of the sweet and aromatic delights of this beloved wine. With its luscious fruit flavors and gentle fizz, Moscato is the perfect choice for those seeking a touch of sweetness. Whether you prefer Moscato d'Asti from Italy or a sparkling Moscato from Australia, indulge in the effervescent charm of this wine.
National Wine Day – May 25th
On May 25th, wine lovers come together to celebrate National Wine Day. This is a day to appreciate the vast world of wine, to raise a glass to the joy it brings, and to explore new varietals and regions. Discover a new favorite or revisit a classic, and toast to the artistry and passion that goes into each bottle.
June Wine Holidays
International Sommelier Day – June 3rd
On June 3rd, the wine world raises a glass to celebrate International Sommelier Day, a day dedicated to the skilled professionals who curate extraordinary wine experiences. As a sommelier, this holiday holds a special place in my heart. It is a day to honor the artistry, knowledge, and passion that goes into guiding guests through the vast and intricate world of wine. On International Sommelier Day, we acknowledge the tireless dedication sommeliers put into crafting wine lists, recommending perfect pairings, and elevating the dining experience. It is a day to recognize the rigorous training, ongoing education, and impeccable service that sommeliers provide. So, on June 3rd, let us raise a glass to toast the sommeliers who enrich our wine journeys and enhance our appreciation for the beautiful nectar that is wine. Here's to the sommeliers who bring the art of wine to life!
Prosecco Week – June 11-16th
Prosecco Week, held from June 11th to 16th, is a celebration of the beloved Italian sparkling wine. This effervescent delight offers fresh citrus notes, a delicate mousse, and a touch of sweetness. Raise a flute and enjoy the lively and celebratory nature of Prosecco.
Rosé Day – June 13th
On June 13th, wine enthusiasts unite to celebrate Rosé Day, paying homage to the elegant and versatile pink wines. From pale and delicate to vibrant and fruit-forward, rosé wines offer a refreshing experience that pairs perfectly with summertime gatherings and outdoor picnics. Embrace the beauty of pink and savor the diversity of rosé wines from around the world.
Drink Chenin Blanc Day – June 20th
June 20th is dedicated to Chenin Blanc, a versatile white grape that excels in various regions across the globe. Whether from the Loire Valley in France or South Africa's Stellenbosch, Chenin Blanc showcases a wide spectrum of flavors, ranging from vibrant citrus and tropical fruit to honeyed richness. Raise a glass of this underappreciated gem and explore its incredible diversity.
July Wine Holidays
Global Lambrusco Day – June 21st
June 21st is Lambrusco Day, celebrating the lively and effervescent red wine from the Emilia-Romagna region of Italy. Lambrusco offers a delightful burst of dark fruit flavors, balanced acidity, and a touch of sweetness. Pair it with charcuterie, pizza, or pasta dishes, and revel in the festive and joyful nature of this wine.
Sparkling Wine Week – First week of July
The first week of July is dedicated to Sparkling Wine Week, an opportunity to explore the world of bubbles beyond Champagne. From Prosecco to Cava, Franciacorta to English sparkling wines, this week invites us to indulge in the effervescence and celebratory spirit of sparkling wines.
Shiraz Day – Fourth Thursday of July
The fourth Thursday of July is Shiraz Day, celebrating the bold and robust red wines made from the Shiraz/Syrah grape. This day offers a chance to appreciate the dark fruit flavors, peppery notes, and velvety tannins that characterize this iconic varietal. Raise a glass of Shiraz and savor its powerful and complex profile.
August Wine Holidays
White Wine Day – August 4th
August 4th is White Wine Day, a celebration of the refreshing and diverse array of white wines available. From Chardonnay to Sauvignon Blanc, Riesling to Chenin Blanc, this day encourages us to explore the crisp and elegant side of the wine spectrum. Choose your favorite white wine or discover a new one, and revel in its cool, zesty charms.
Pinot Noir Day – August 18th
August 18th is Pinot Noir Day, a tribute to the delicate and nuanced red wine known for its complexity and elegance. Pinot Noir offers a captivating combination of red fruit flavors, earthy undertones, and silky tannins. Embrace the allure of this noble grape and savor its ethereal qualities.
National Red Wine Day – August 28th
On August 28th, wine lovers raise their glasses to celebrate National Red Wine Day. This day is dedicated to appreciating the wide range of red wines available, from bold and full-bodied Cabernet Sauvignon to elegant and silky Merlot. Explore the richness and depth of red wines from different regions and indulge in their captivating flavors.
September Wine Holidays
International Port Wine Day – September 10th
On September 10th, wine lovers around the world come together to celebrate International Port Wine Day. This special holiday pays tribute to the unique and fortified wine produced in the Douro Valley of Portugal. Port wine is known for its rich, sweet flavors, deep ruby color, and velvety texture. Whether you prefer a vintage Port, a tawny Port, or a refreshing white Port, this day is an opportunity to savor and appreciate the complexity and elegance of this renowned wine style. So, on September 10th, raise a glass of Port, perhaps accompanied by some cheese or dark chocolate, and immerse yourself in the centuries-old tradition and allure of this beloved Portuguese treasure.
International Grenache Day – Third Friday of September
The third Friday of September is International Grenache Day, a celebration of the Grenache grape and its contributions to the world of wine. Grenache offers enticing red fruit flavors, spicy undertones, and a silky texture. On this day, embrace the diversity of Grenache-based wines, including those from the Southern Rhône, Spain, and Australia.
October Wine Holidays
Pinotage Day – Second Saturday of October
The second Saturday of October is Pinotage Day, honoring South Africa's unique and signature red grape variety. Pinotage displays ripe dark fruit flavors, smoky notes, and a distinctive character. Celebrate this bold and expressive varietal, which has become synonymous with South African winemaking.
Carignan Day – Last Thursday in October
The last Thursday in October is Carignan Day, a celebration of the Carignan grape and its contributions to the wine world. Carignan wines often showcase dark fruit flavors, earthy nuances, and robust tannins. Take this day to explore the rustic charm and bold character of Carignan.
November Wine Holidays
International Merlot Day – November 7th
On November 7th, wine lovers unite to celebrate Merlot Day, paying tribute to one of the world's most popular red grape varieties. Merlot offers a smooth and supple profile, with flavors of ripe berries, plum, and a touch of herbal notes. Raise a glass of Merlot and appreciate its approachability and versatility.
International Tempranillo Day – November 9th
November 9th is Tempranillo Day, honoring Spain's beloved red grape variety. Tempranillo wines often exhibit flavors of red fruit, leather, and spices, with a medium to full body and well-integrated tannins. Celebrate the richness and elegance of Tempranillo and explore the diverse expressions from Rioja, Ribera del Duero, and beyond.
Wine Tourism Day – November 12th
On November 12th, wine enthusiasts and travel aficionados celebrate Wine Tourism Day, a special day dedicated to the exploration of wine regions and the joy of wine travel. This holiday highlights the unique experience of immersing oneself in the culture, history, and flavors of wine-producing regions around the world. Whether you're strolling through picturesque vineyards, participating in tastings at renowned wineries, or learning about the winemaking process, Wine Tourism Day offers an opportunity to indulge in the beauty of wine travel. It's a day to embrace the enchantment of wine regions, to connect with winemakers and fellow wine lovers, and to create lasting memories with every sip. So, mark November 12th on your calendar, pack your bags, and embark on a wine-filled adventure that will ignite your senses and deepen your appreciation for the magic that wine tourism has to offer. Cheers to the joy of exploring wine regions and toasting to unforgettable wine travel experiences on Wine Tourism Day!
Zinfandel Day – Third Wednesday of November
The third Wednesday of November is Zinfandel Day, a celebration of California's iconic red grape variety. Zinfandel offers ripe fruit flavors, spice, and a luscious mouthfeel. This day encourages us to savor the boldness and richness of Zinfandel and appreciate its historical significance in American winemaking.
Beaujolais Nouveau Day – Third Thursday of November
The third Thursday of November is Beaujolais Nouveau Day, marking the release of the young and vibrant Beaujolais Nouveau wines from the Beaujolais region in France. These wines exhibit fresh and fruity flavors, with lively acidity and minimal tannins. Celebrate the arrival of this light-hearted and enjoyable wine that signals the beginning of the holiday season.
International Carmenere Day – November 24th
November 24th is Carmenere Day, dedicated to the red grape variety that has become a symbol of Chilean wine. Carmenere wines offer a unique combination of dark fruit flavors, herbal notes, and a velvety texture. Raise a glass of Carmenere and honor its revival and recognition as a distinct and exceptional grape.
December Wine Holidays
Cabernet Franc Day – December 4th
On December 4th, wine enthusiasts come together to celebrate Cabernet Franc Day, paying homage to this versatile red grape variety. Cabernet Franc often showcases red fruit flavors, herbal undertones, and refined tannins. Take this day to appreciate the elegance and finesse that Cabernet Franc brings to blends and varietal wines alike.
Sangria Day – December 20th
December 20th is Sangria Day, a celebration of the refreshing and fruity Spanish beverage. Sangria combines red or white wine with various fruits, spices, and a touch of sweetness. Raise a glass of Sangria, whether homemade or enjoyed at a local bar, and revel in its festive and vibrant character.
Champagne Day – December 31st
As the year draws to a close, December 31st marks Champagne Day, a day to raise flutes of this iconic sparkling wine and toast to new beginnings. Champagne is synonymous with celebration, elegance, and luxury. Take this day to indulge in the effervescence and finesse of Champagne, appreciating the craftsmanship and time-honored tradition that goes into each bottle.
Wine holidays offer us the opportunity to explore and appreciate the rich diversity of wines from around the world. From celebrating specific grape varietals and regions to embracing the joyous spirit of sparkling wines, each wine holiday allows us to delve deeper into the fascinating world of viticulture. As a sommelier, I encourage you to mark these dates on your calendar, raise your glass, and celebrate the unique flavors, history, and cultural significance of each wine holiday. Cheers to the endless discoveries and unforgettable moments that await us on our wine journey! As a part of this wine community, be sure to download the CorkageFee app to share your restaurant and corkage experiences today!